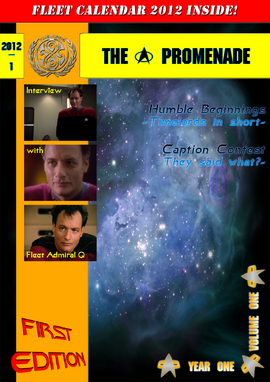 The idea, to create and publish some kind of a journalistic piece for the Fleet and Visitors, came up several times since the Founding of 'Timelords'. After a rapid brainstorming, internal work has begun in early December 2011.
Standard, recurring topics are:
'Starfleet Priority Channel - Alpha One' Fleet News\Updates (the Timelords' Blog lives on as this topic)
'Ten Forward' - Interview Section
Pirko's Armoury - STO-related articles (Builds, Weapon tactics, etc.)
'Q's TARDIS' - Fleet Admiral's Section (Gaming reviews and/or more serious topics)
'Caption Contest' - Competition for Fleet Members
Occasional topic is:
'Holodeck' - Content (images, lyrics, literal compositions) made by Fleet Members
MORE CONTENT IS ON THE MOVE!
Current staff-members are:
As you can see, we're still at beginner phase, recruitment is ongoing.
Publishing
Edit
'The Promenade' is available as an embedded page-flippable Flash Document on a different web-host and as a downloadable PDF-file.
Flash Website: http://dorus.uw.hu/ - Issue One \ 2012-04 - (Working on a web archive to make the earlier issues accessible to everyone, at this point only the actual issue is available in Flash)
Download link for the PDF-file:
Community content is available under
CC-BY-SA
unless otherwise noted.